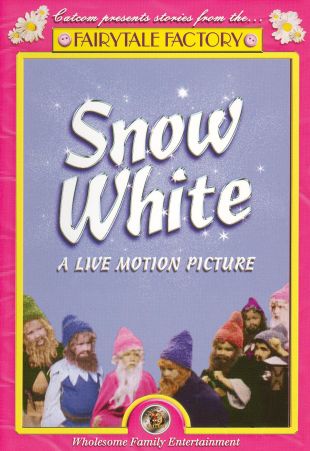 We all know the story of Snow White. Because of the Disney film it is ingrained into the human consciousness. This is a German production that goes live action. The dwarves are played by children. I love that the evil queen is not really that good looking. Prince Charming with his page boy cut is hilarious. The hunter doesn't even try to cover up that he hasn't killed Snow White and gets thrown in the dungeon. Because of the Disney norm that we all have it's interesting to see a different take. The queen takes three tries to kill Snow White. The prince didn't have a magic kiss. When the dwarves drop the glass coffin they knock the chunk of apple from her throat and she's fine. I admit that is weird because she's been dead for a few days. It's a fairy tale so, what do you want.
A lot of these kiddie movies tend to have a low rent feel to them, but this one is so lush. It deserves a new release and a cleaned up print. In it's original lush color I'll bet it was just beautiful. The kids as dwarves are not as annoying as you would think. They do a great job.
These kiddie films are just a great thing that you can get from
Something Weird Video
. I recommend all of them. They are either sweet like this one or just some of the weirdest things you have ever seen. Great stuff.